This post is about how important it is to choose the right bodymod artist for your ear pointing. Because tastes differ, there are a lot of different ear styles offered: ears can look more natural and Lord of the ring-like, in contrast to this, they can be also really pointy and unnatural looking. So first of all decide wether you like the one or the other look.
After this, it's time for choosing the right artist for you. Choose an artist who is knowledgeable and experienced!!! It's always a good idea to read through different bodymod forums to get in touch with people the artist has worked on before, to get a sense on the quality of the artist's work. Another good way, that works also good for people who aren't that skilled in speaking English, is illustrating your ideas by using image editing software. We just took pictures of our ears and created the point that we want, sent it to the artists and asked them if they are able to create that kind of look.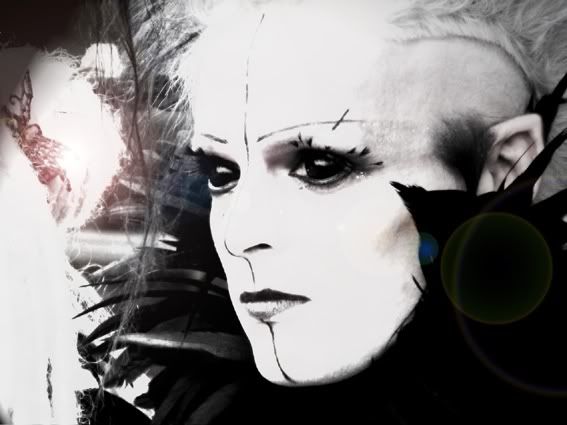 with this pic we illustrated the point we'd like to have
During gathering information we often read about the money-aspect, but please, don't choose your artist just because of the price. You just have one pair of ears and normally you point them just one time, so even a higher price shouldn't be that hard to pay. Never forget, that bodymod artists have to live from the money they earn and at least one person has to assist during the ear pointing.If they're pointed in the wrong way (related to your taste) it's hard for a second artist to create a new point... so all in all: getting the ears you want, should be your first goal, not saving money.
As already mentioned, tastes differ, so we can't say, who is the right artist for you, but we gathered the names, that are mentioned quite often in bodymod forums. A lot of them travel around the world, so maybe they also visit a shop near you. We gathered links to their homepages, but a lot of them also have a page in social networks, where you can contact them.
Steve Haworth
Lukas Zpira
Sampaa von Cyborg
Bruno
Russ Foxx
Howie
Efix Roy
Jonathan Martinez
Matias Tafel
Brian Decker
Emilio Gonzalez
Usually there are also shops in your own country that offer ear pointings. Because we're from Germany, we just know German shops, for example:
Deepmetal
Visavajara
We're sure this list isn't complete, it's just a list for a first impression on what is possible. Feel free to contact us, if you know about more places in your country.